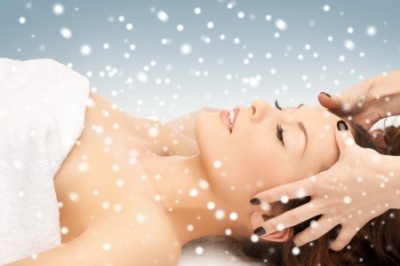 Thank Your Body For Everything It Does For You With A Relaxing Massage
Cold weather is just around the corner, which means it's almost time to start bundling up and getting ready to fight off dry, cracked skin with warm, moisturizing treatments. Rather than letting the bone-chilling winter temperatures aggravate your joints and freeze your fingers, why not make this season a time to thank your body for all the hard work it does for you on a daily basis with a trip to the day spa? After all, what could be more relaxing than a full-body massage, or perhaps a massage treatment that targets your pain points and leaves you feeling well-rested for the weeks to come?
It's the season for giving thanks, and your body deserves a 'thank you' gift for keeping you going, day after day, even when you're feeling mentally under the weather at work or school. Here are some massage treatments to consider treating yourself to in these last few months of the year:
Foot Massage
If you have a step tracker on your wristwatch or smartphone, then you know how many miles your feet carry you around throughout the day, every day. Even with the best-fitted shoes and arch supports, our feet still develop considerable wear and tear from all the walking, running, and hiking we do on a daily basis (especially if you're wearing heels!). To work out the kinks and tension from your toes to your ankles, a foot massage is a wonderful option to help you get back on track with minimal foot pain and ankle strains caused by flat feet, standing for long hours, running, and wearing uncomfortable shoes.
Relieve Sitting-Related Aches
Did you know that sitting for too long is a major cause of back pain? Since sitting puts more pressure on the spine than standing does - especially if you have less-than-perfect posture - your desk job or long commutes in the car might be creating a lot of physical discomfort for your lower back. Obviously sitting for long hours is unavoidable for many people, but instead of accepting the reality of lower back pain, a massage targeting your pain points and relieving muscle tension in that region is an optimal way to maintain your physical well-being and avoid long-term aches from developing.
Rejuvenate in the Sauna
Winter is coming, which means it's time to warm up your body and detoxify with an infrared sauna. Even if you have the world's healthiest diet and a strict exercise regime, toxins still accumulate within our bodies and need to be expelled for our own well-being. Luckily, sweat produced by visiting saunas offers long-lasting effects that will withdraw the toxins lying beneath the surface of your skin and leave you feeling both relaxed and refreshed.
Spa Facials
Whether you wear makeup every day or you shave on a regular basis, the skin on your face also deserves some TLC and the best way to accomplish this is with a top-notch facial massage. A facial treatment is designed to bring out the best in your skin's complexion and leave it soft and supple to guard against the cold, dry weather of winter. Additionally, a spa facial is ideal for anyone who wants their skin to retain a healthy glow and look great in family holiday photos.
Here at Massage Green Spa, we offer a plethora of spa services and massages to help you get back on your feet and warm up during the upcoming winter months. Self-care is a year-long commitment (life-long commitment, really), so if you're looking for a great place to get a massage in Denver Colorado, then visit our website to see what our latest spa specials are.