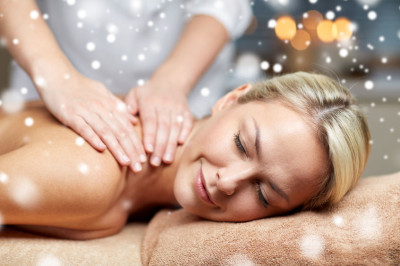 The weather outside is frightful, but a massage is so delightful
Winter is finally upon us, but bundling up in a blanket next to the fireplace isn't the only relief from the cold weather available. This time of year is perfect to jumpstart your self-care routine to combat dry skin, bone-chilling winds, and holiday shopping stress. If it's been a while since you've treated yourself to a massage, then add it to your winter self-care to-do list for the coming weeks.
Getting a massage is not only important for your physical well-being; it can also help you reduce stress and combat the winter blues, according to the American Massage Therapy Association's research on seasonal affective disorder (SAD), which impacts one in five people every year around Daylight Savings Time. SAD symptoms are similar to depression: inexplicably low energy levels, increased appetite, and general feelings of disinterest and lethargy. How can we help you warm up and fight off the winter blues this season? Here are some of the wonderful benefits a massage can offer you:
Massage Away Your Stress and Tension
Massage therapy is so much more than temporary muscle relaxation. When you step into our facility from the blistering cold weather outside, you'll be greeted by a warm, relaxing environment with friendly staff prepared to meet your individual needs during your session.
Your massage room takes you away from the freezing chills, bright lights, and loud noises of the outside world and transports you to a world of warmth, serenity, and relaxation, with low lighting and calm music designed to distract your mind from holding on to the stress of your job and everyday life.
A therapeutic, deep tissue massage can not only get out any kinks in your muscles, but also lead to long-term rejuvenation as your body and mind can't help but relax in this tranquil environment. The possible long-term benefits of massage therapy include: lower levels of stress in general, better sleeping patterns, and increased immune system viability (important during the flu season). Even if you're not experiencing particularly high levels of back pain or muscle tension, the tremendous mental benefits of these forms of therapy are yours for the taking.
Warm Up with Our Infrared Sauna
We offer so much more than individualized massage treatments - we also offer an infrared sauna that warms up your body from its core, rather than heating the air itself. This treatment allows for deeper relaxation as you sweat out toxins that could hamper your immune system's ability to fight off illnesses during the cold winter months.
Beat Dry Skin with a Rejuvenating Facial
Winter weather can be a nightmare for anyone who struggles with dry, reddened skin. Our faces are particularly prone to dryness because of direct exposure to the chilling winds whenever we venture outside.
Even if you maintain a top-notch moisturizing treatment at home, getting professional facial treatments during the winter months is ideal for minimizing instances of dry skin and redness. To protect your face from the elements and preserve your youthful glow, a rejuvenating facial is the ideal solution. Combined with massage therapy, facials can help you detoxify your skin and maintain a healthy appearance for family holiday photos!
Perfect Winter Holiday Gift
What could be a better gift for a hard-working loved one or colleague than a
gift card for Massage Green Spa
? We offer gift cards in amounts ranging from $50 to $200 so you can treat the favorite people in your life to an hour or more of deep relaxation and tension relief with a massage, facial, or infrared spa experience.
Don't let winter weather put a hitch in your self-care routine this year. Instead, visiting a day spa in Denver Colorado will not only protect your skin from the cold, but also lower your stress levels, warm up your body, and reduce muscle tension for many weeks to come. Go ahead and treat yourself (and a friend!) this winter by visiting our website today to see what treatments we have to offer.