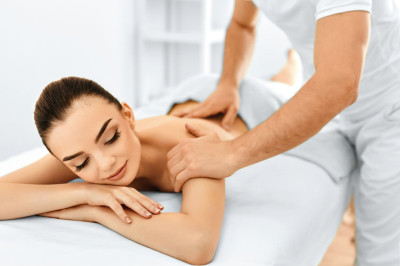 A new year, a new you, a new day spa experience
Every new year comes with new goals and aspirations we set for ourselves and our lives, and can you think of a better way to jumpstart your self-care routine than with a relaxing massage? All too often, we get so caught up in work, family responsibilities, paying bills, and caring for others that self-care falls to the bottom of the list of priorities. But not anymore!
Forget about the mistakes and stumbles that happened last year and start thinking of new ways to promote a better sense of well-being for yourself. Whether this entails a soothing, full-body massage or getting facials more regularly to keep your skin in peak condition, there are endless possibilities when it comes to dedicating yourself to a self-care routine. If you're ready to make this your best year yet, here are some ways a massage or other spa treatment might be just what you need to fulfill your New Year's resolution:
Massage Away Your Aches and Pain
A massage treatment offers so much more than just temporary relaxation. Instead of treating it as a one-time gift to yourself, think of it as an experience. Massage therapy has been linked to reduced muscle tension, fewer instances of back pain flare-ups, improved quality of sleep (especially if you suffer from ongoing pain in your neck region), and fewer migraines.
When you go to Massage Green Spa, our #1 priority is designing a massage session just for you. We don't just get out the kinks, ease your muscle tension, then send you on your merry way - instead, we are dedicated to knowing about your pain points so we can tailor a massage treatment to what your body needs. All bodies are different and come with their own unique pains and aches, so it's important to find a day spa that prioritizes your needs instead of giving a one-size-fits-all treatment to every person who walks through the door.
Clear Your Mind
In addition to the physical benefits, a massage session can help you clear your mind. Soothing instrumentals and the sounds of nature gently wafting through the air during a session are designed to bring you peace of mind, letting you shut out the chaotic, noisy world beyond the room and focus on internalizing a sense of peace and relaxation.
Massage therapy has also been associated with lower rates of depression and anxiety. While this is not designed to replace traditional psychological therapy by any means, you can still experience mental benefits during and after a massage. By allowing your body to relax and let your mind wander from the stresses of daily life, you'll likely find yourself worrying less about outside concerns and focusing more on enjoying the moment.
Cleanse Your Pores
Massages aren't the only components of a comprehensive self-care routine. If you've been struggling with dry or reddened skin and clogged pores, then regular facial treatments can cleanse your pores, rejuvenate your skin, and minimize the toxins just below the surface. After all, your face is exposed to the elements more than other parts of your body all year-long, which means it needs a little extra tender, loving care to protect.
As you can see, there are many ways to benefit from a new-and-improved self-care routine in the new year. Stop letting outside distractions and the stress of daily life prevent you from embarking on a journey to a happier and healthier you. If you're ready to get a massage in Denver Colorado, then look no further than Massage Green Spa to fulfill your New Year's resolution of maintaining a regular self-care routine and attaining peace of mind through physical relaxation.