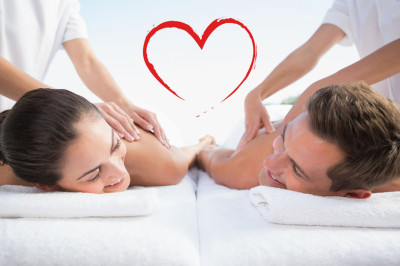 Give your significant other a day spa experience this Valentine's Day
You and your spouse or boyfriend/girlfriend work hard all year round, which means it's important to treat yourselves every so often so you can continue working with a refreshed perspective on life. With Valentine's Day just around the corner, a day spa experience might be exactly what your significant other needs to de-stress, detoxify, and rejuvenate their body and mind to get ready for a busy spring.
Whether you've been going to the day spa for years or this is your first time, there are so many wonderful options to indulge in this season. If you're concerned about dry skin after a chilly winter season, our rejuvenating facials could be exactly what you need to bring a youthful glow back to your cheeks. Or perhaps your partner's back or neck have been experiencing aches and pains - a trip to the day spa can resolve minor health concerns with a massage and sauna experience.
If you're looking for great Valentine's Day gift ideas for your loved one this year, here are some additional benefits day spa treatment packages have to offer:
Physical Relief and Relaxation
First and foremost, physical relaxation is one of the biggest benefits massage therapy and other related treatments have to offer. Our experienced masseuses are trained to pinpoint painful areas and gently work out knots and kinks in your joints, leading to long-term relief.
Why settle for the usual Valentine's gifts of food and flowers when you can offer your partner something that will truly change their life for the better? Pain relief and relaxation are some of the greatest gifts you can give someone, which can lead to additional benefits like improved sleep, decreased irritability, and greater sense of well-being and activeness.
Rejuvenate Your Minds
Massage therapy, sauna experiences, and facials offer so much more than physical benefits. The mental benefits of visiting a day spa can include: reduced levels of stress, greater sense of personal well-being and self-esteem, lower rates of anxiety and depression, and greater happiness overall. It's amazing to think you can feel less stressed and happier after just an hour or so, but this is one of the primary purposes of massage therapy!
The mental health benefits of visiting a day spa vary from person to person, but if your spouse or partner is frequently stressed by work, finances, kids, household duties, or other things going on in their life, then this might be the perfect Valentine's Day gift to let them know you love and appreciate them. For long-lasting benefits, we also offer monthly membership packages for massage and facial treatments.
Day Spa Packages for Couples
Did you know that Massage Green Spa offers massages for couples? This way, you can both experience the physical and mental benefits of day spa treatments together, whether you're looking for aromatherapy, reflexology, light touch regenerative therapy, hot stone massages, facials, or any other treatment options available.
Going to the day spa together is a great way to spend quality time with your significant other, as well as treating them to the rejuvenating experience they deserve. Roses and chocolate gifts are fine and all, but can they really compare to the long-lasting health benefits of massage therapy?
Make this year's Valentine's Day a day to remember by finding a great day spa in Denver Colorado to visit with your loved one. We offer a wide range of therapeutic and relaxing services for any need or want you and your partner desire, so contact us today to arrange an appointment, get more information, or buy a gift certificate to get ready for the most romantic holiday of the year.